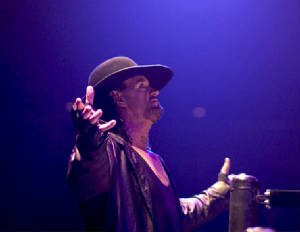 Now on to the Undertaker. Oh man there are a lot of reasons why Undertaker is the best. There are so many that I may not have enough room to type it all down, so I won't type it all, Imma just put a few reasons why he's the best. First of all, Undertaker was one of my favorite wrestlers when I was small. He was the first person I saw when I was watching it for the first time. He kinda scared me though cause of how he looked. All that don't matter though, the reason why he's the best is because he's been around for so long. He knows everything there is to know about the WWE. Plus he has one of the best moves, which is the Tombstone Piledriver. Bottom line is that Undertaker is the best and always will be!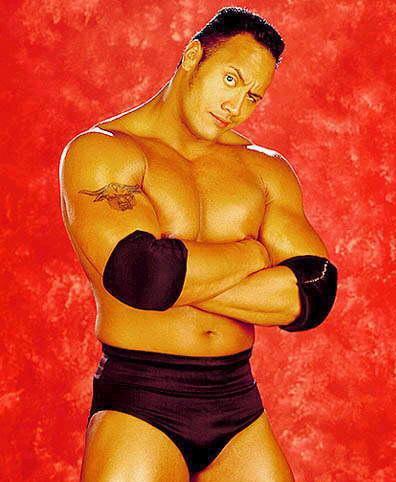 Now on to The Rock, The People's Champion, The Great One, The Most Electrifying Man in sports entertainment today. There is no tellin on why The Rock is on here. Simply because he is one of the best and plus if I don't put him on here, I got a friend who will get mad at me for not doing it. Plus he is a 10-Time Champion, and I think he's tied with Hunter, although I hate saying it. He was also the Royal Rumble 2000 winner and he got to face Stone Cold at Wrestlemania X-Seven, but of course he lost the title from him cause he sucks. Now The Rock is out in Hollywood somewhere making movies like the traitor he is. Rock states he'll return, but he never does. I really wouldn't care if he made a return to the WWE either. If he ever does, I hope Triple H beats the crap out of him AGAIN!
I remember watching Smackdown! when Batista first debuted. Batista was this huge man walking along side D-Von Dudley. I never paid much attention to the guy until he went over to RAW and joined Evolution. I noticed that Batista was the guy who protected everybody else like Hunter, Orton, and Flair. Batista was the only man who could take out Bill Goldberg just like that. Dave is almost as powerful as Kane because he could empty out a ring filled with superstars as well if he wanted. Batista is a 1-time World heavyweight champion that doesn't like to be angry. Once you angry Batista, he'll unleash The Animal that's inside of him. Just ask Triple H. ha!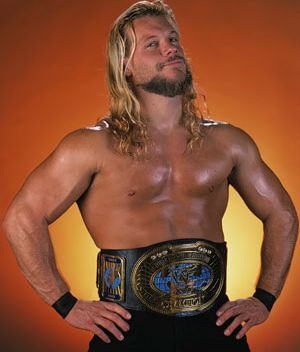 Chris Jericho has been in the WWE for years now and he has become one of my favorite superstars. He is funny as hell on the mic, and he has a great finishing move. I don't know much about him because he was in ECW and WCW before he came to the WWE. I remember when he first came, he interrupted The Rock and so The Rock said his mean things and made Jericho cry. It was funny. You had to see it. Jericho is the first ever Undisputed Champion who defeated The Rock and Stone Cold, two of the greatest superstars ever. Jericho is the only wrestler who has held the Intercontinental Championship 7 times. It makes me mad that the WWE won't give him another title shot, but we all know he'll be the champion again very soon.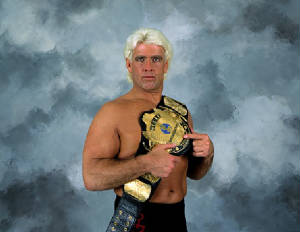 'To be the man, you've got to beat the man!' Nobody says it better than Ric Flair himself. This man happens to be one of the greatest wrestlers ever! Flair is a 16-time world champion! Not only that, but Flair also won the Intercontinental Championship for the first time in 2005 by defeating the young Carlito. Flair prooved that he was still the man that night. I really don't know much because Flair was in WCW and I was an anti-WCW person growing up. I just remember him making his return to the WWE one night by becoming the new GM of RAW. I just remember being in total shock that night. Later on, he became my favorite by joining forces with The Game and Evolution. Today The Nature Boy still runs wild in the business. It'll be a while before this man retires.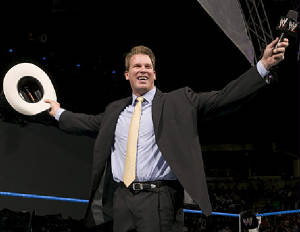 JBL, the only superstar to hold the WWE Championship for 10 months making him the longest-reigning WWE Champion in 10 years! How amazing is that? Not that amazing I tell ya! Triple H has held the World Heavyweight Championship for over a year! HA! JBL has had a very successful career with the WWE. JBL was a tag team champion on many occasions and a hardcore champ as well. I remember when he changed the hardcore title belt into one of his own. All I can say is that his belt looked a lot better than John Cena's. I've been a fan of JBL for quite some time now. It just sucked that he returned to Smackdown! rather than RAW because with a powerful guy like him, he needs to be on RAW. I can't wait until he becomes champion again.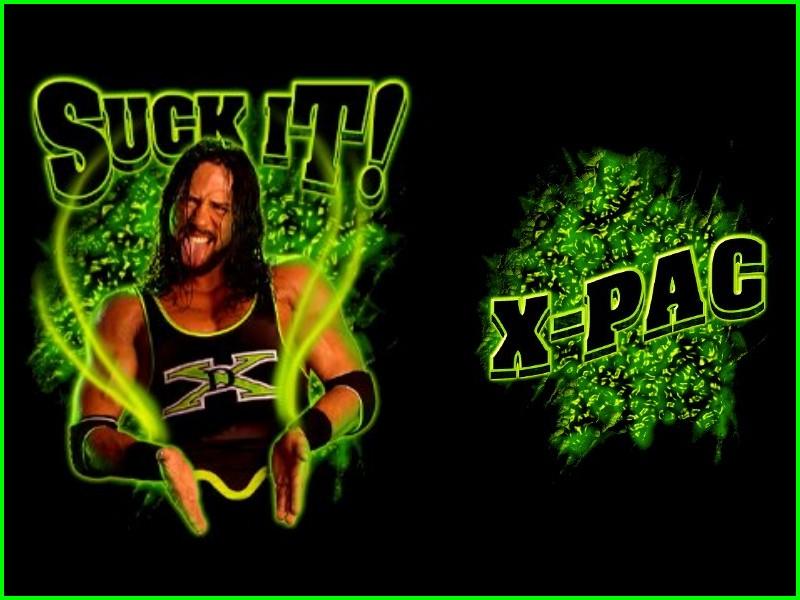 X-Pac Sucks?! No, X-Pac doesn't suck, YOU SUCK! X-Pac is one of the very best in the business cause he's been around for a long time and I remember watching him when I was small. He was called the 1-2-3-Kid back then. X-Pac is a generation superstar cause of his cool moves and cause of the history in the WWE. X-Pac is simply one of my favorite superstars because of the way he wrestles and cause of his moves and his martial art skills. I just wish that he had never dated Chyna...
Victoria is an awesome diva! This is the diva that used to be one of The Godfather's hoes. Victoria was then powerbombed through a table by The Godfather when he became part of the Right To Censor and then became The Goodfather. Victoria recovered and became this evil diva that was very psycho. I instantly became a fan of hers because she didn't take shit from nobody! Every time somebody got in her way she would finish them off with her deadly finishing move she calls The Widows Peak. Victoria is a former WWE Women's Champion. This woman has a long future ahead and I know she'll accomplish a lot. Victoria is just awesome!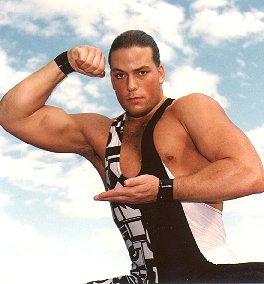 Mr. Monday Night, Mr. Pay Per View, The Whole F*ckin Show! RVD! I remember seeing RVD on WWE 'Raw Is War' back in 97, but I didn't care for him because I didn't really know the guy. Now when I see him and watch him wrestle, omg he makes me drool. RVD has great wrestling skills and has a very nice body and omg I love his long beautiful hair when it's down. I just wish he wasn't married. RVD is just the best out there and one day he might become the WWE Champion. Cause he's R-V-D!!!
Stephanie here is nothing but a b!tch, but I thought I would add her here anyway. I remember when I first seen Stephanie. All I thought was "Damn could she be anymore ugly?" and then as time went on, she finally started to dress better, but after she got them fake implants, she got more stupider and stupider. The thing I like about her is the way she acts in the ring. Man she makes me laugh like hell. She is very powerful in my opinion cause she has a Genius for a father. Stephanie is just kool, but needs to stop acting like a b!tch at other times. Plus she needs to get with someone else and leave my Triple H alone!